Dust Collector Air Filter Cleaning and Recycling
Filter Service and Supply has been cleaning dust collector air filter cartridges since 1984 using the Sonic Clean dry clean method.
Our cleaning method uses no water, chemicals, solvents, or detergent ants during any phase of the cleaning process. Using computer controlled sonic pulsations with air pressure, vacuum and vibration we can recycle your dust collector filter to a condition that meets your original air flow.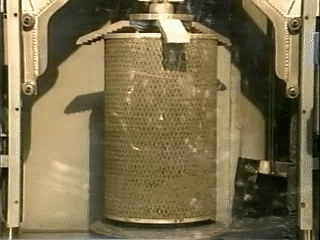 The old fashion "wet washing" method can degrade the integrity of your dust collect air filter cartridge each time it is washed and is the reason most "Wet Washers" recommend you never wash a filter more than three cycles. Experience shows that using our Sonic Clean dry clean method dust collector air filter cartridges with a paper based filter media can safely and efficiently be cleaned up to six change-out cycles while filters with synthetic media have no limit to the cleaning cycles they can be cleaned. With or Sonic Dry Clean method of cleaning dust collector filters we do not wash out the "Pre-coat" that is important for your filters to operate at maximum cleaning effectiveness.
When you have your dust collector filters cleaned you will be reducing your steam of non- biodegradable waste to our landfills, your company will be making a substantial positive environmental impact. The environmental advantages of recycling your dust collector filters are obvious but there are also substantial economic reasons to recycle your air filters. Recycling your dust collector filters can save you up to 60% on the cost of replacement filters while reducing dumpster space and the cost of waste disposal.
Not all air filters are candidates for cleaning or recycling. For a free evaluation of your filter needs along with a free test cleaning of your filters feel to give us a call or use our Contact Form.
No need to ship your dust collector filters for cleaning. We offer weekly pickup and delivery service to Riverside County and San Diego County.